March 25th, 2014 — Events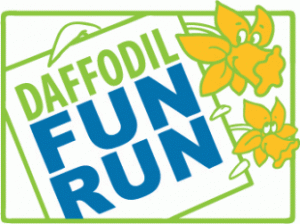 Daffodil Fun Run
Start Time: Sunday, April 27th, 2014 at 11:30 a.m.
Walkers start at 11:00, That is 30 minutes before runners!
March 12th, 2014 — Events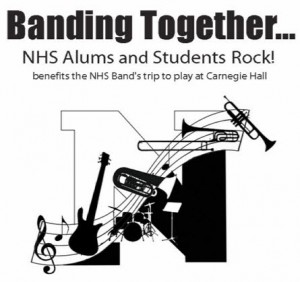 Banding Together…
NHS Alums and Students Rock!
benefits the NHS Band's trip to play at Carnegie Hall
March 27th • 7-9:30 pm • NHS auditorium • $10
Tickets at NHS front office, Cooper's, State Street, or at the door.
January 1st, 2014 — Events, Photos
Image links from the Springfield Republican, January 1st 2014.
December 20th, 2013 — Events
"Get started at noon with our fabulous opening show at the Academy of Music where "VALVE: A New World Circus" promises to delight and amaze. After the performance, follow the OffBeat Drumming Ensemble and Hoopiverse as we hit the streets of downtown, serenaded by the Expandable Brass Band, for the First Night Family Parade. By 2 pm, the party is in full swing. Our performance program is filled with hours of afternoon excitement for young children plus day-and-evening entertainment for audiences of all ages. Catch a single appearance by the Young @Heart chorus at John M. Greene Hall. Check out the roster of emerging artists at one of our newest venues, The Parlor Room. Thrill to the sounds of the Happy Valley Guitar Orchestra at Sweeney Concert Hall or enjoy the First Night debut of the Valley Light Opera at Hallie Flanagan Theatre. Veteran performers and new-comers create an eclectic program of music and dance that is sure to satisfy every taste".
http://www.firstnightnorthampton.org
December 2nd, 2013 — Events


The Hot Chocolate Run is a community celebration of Safe Passage, the Hampshire County organization addressing domestic violence. The Hot Chocolate Run has grown dramatically since its first year in 2004. This year, we expect 5,500 participants in our 5K run and 2 mile walk. Every runner and walker will enjoy a mug of homemade hot chocolate at the finish line!
Start Time
Sunday, December 8, 2013
Walk: 9:30 am
Run: 10:00 am
November 8th, 2013 — Events
Moonlight Magic has become a traditional event across the region. It is the kick-off to the holiday season that includes Lighting of the Village, the Parade of Lights, Santa's Workshop, carolers, and street performers.
October 31st, 2013 — Events, Creature Crawl 2011
October 17th, 2013 — Events
We had a WONDERFUL time at the HONK! Fest in Somerville Oct 11-13.   See Sandy's photo album and the Honk! Fest website and Honk's Flickr pool, as well as YouTube  and our tweets (at right).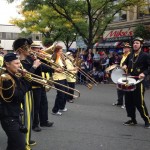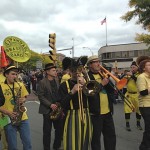 Upcoming gigs:
Amherst, MA: Saturday October 19, 3:30-4:30pm at Co-op Carnival with Food for Thought Books, 106 N Pleasant St , Amherst.
Easthampton, MA: Sunday October 20, afternoon (2-4ish), Park Hill Orchard, 82 Park Hill Rd, Easthampton.  This is a celebration of the Art in the Orchard show, which has been up since September.  Don't miss it!
Holyoke, MA: Saturday October 26 at sunset (5:45pm) for Canal Creature Crawl, Heritage State Park, Dwight Street and first canal. Come earlier for the Monsters Ball  (4pm- ) in the City Hall ballroom.  Stay afterwards for the After Life Party (8pm- ), also in City Hall Ballroom. Our band will lead a parade of creatures, kids and families around Heritage Park after a brief ceremony at the canal at 5:45pm. (Kids drop colored leaves into the canal.)
Northampton, MA: Sunday October 27, 10:45- 11:10am, Gives A Hoot Halloween Fun Run, as racers return to Fitzwilly's parking lot.
August 16th, 2013 — Events
We'll be playing Saturday August 17, 11am -1pm at the Open Square Farmers' Market, 1 Open Square Way  (near Lyman St), Holyoke, MA.  Come to the market.  Come enjoy the music!
We'll be playing for the Rockridge Retirement Community's picnic on August 23.
Transperformance: Beyond Bob at Look Park, Tuesday August 27.  Our part will be 6-7pm.  The Expandable Brass Band will perform as Miscellaneous Bobs.
On Saturday September 7th we'll participate in the Northampton Jazz Fest.  We expect to be in a parade at 11am and play in smaller groups in the afternoon.
We'll be at the HONK! Fest in Somerville Oct 11-13, 2013.
Many other gigs are in the planning stages.  You can also catch us most Sundays outdoors at Maines Field, Florence, MA, where we rehearse midday (12:30pm til about 2 or 3pm).  If you play an instrument, bring it along. We are expandable!
July 19th, 2013 — Miscellaneous
Here's the official billing for our gig at the Green River Festival this Saturday, July 20:
      Kids' Mardi Gras Parade, Saturday 6:35, with the Expandable Brass Band
We'll be in our yellow and black outfits.  You can't miss us!  Don't miss us!  See you there.